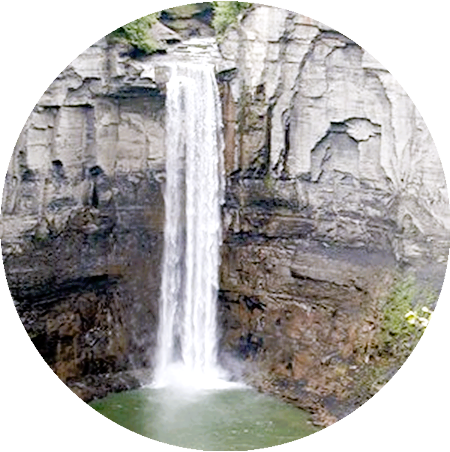 Hiking Trails
Trails are seasonal. North and South Rim Trails are closed in Winter. Multi-Purpose Trails are open in the Winter for hiking and cross-country skiing. The park asks that you stay on designated trails, areas of the Rim trail can be dangerous.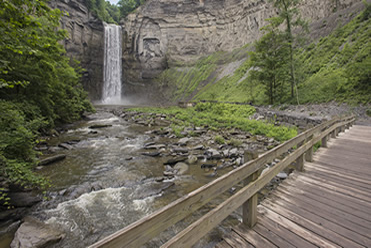 Gorge Trail
The Gorge Trail is a very pleasant 3/4 mile (1.4 km) mile walk on a flat, wide, trail that ends near the base of the falls. On a hot summer day this is particularily enjoyable with a fine cool mist coming from the falls along the creek bed.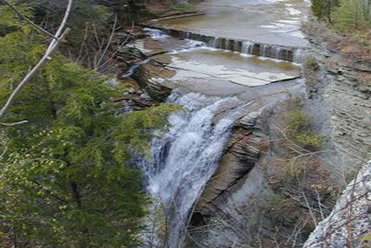 North Rim Trail
The North Rim trail winds around between Taughannock Park Road and the Gorge. You can stop at the Taughannock Falls Overlook to see a fantastic view of the falls. There is a public convenience station there with restrooms.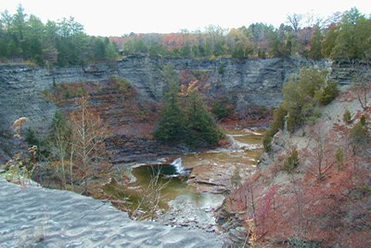 South Rim Trail
You might enjoy the South Rim Trail which can be somewhat challenging at the lower end yet it is very rewarding with many scenic vistas of the gorge and Taughannock Creek below.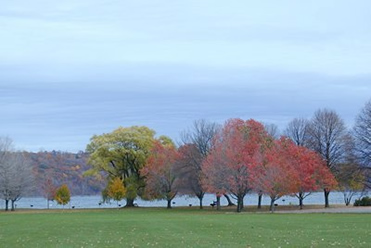 Cayuga Lake Front
The main parking area is along both sides of Route 89. One side has pleasant walking area along Cauga Lakefront with pavillions and tables for picnicking, a childrens park, and the boat launch. The other side provides access to Gorge Trail, and both North and South Rim Trails.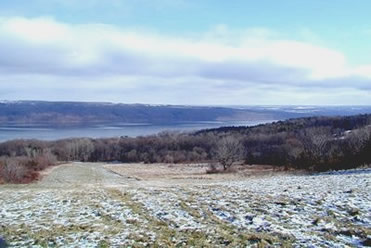 Multi-Use Trail
The multi use trails are a favrite for cross country skiing and bird watching. The multi use trails are open year round. Some area tend to be damp and have tall grass. Hiking boots recommended.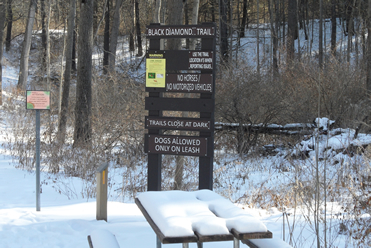 Black Diamond Trail
The Black Diamond trail is not part of the park but does connect from the South Rim trail and offers a wide smooth trail for easy walking and light trail bike riding. You can access the Black Diamond trail from the small parking area just before the park entrance at the end of Jacksonville Road.
About Taughannock
The falls are formed by a rock bed creek entering the lake and surrounded by a glen with walls climbing to 400 feet (120 meters). The cataract has a drop of 215 feet (66 meters), one of the highest east of the Rocky Mountains slightly higher even (25 ft., 8 m) than Niagara (American side), but they cannot be compared because it has much smaller volume. Taughannock is interesting year round - the falls and gorge create a natural amphitheater with dense spray rising from the bottom often shrouding the lower part of the cataract in mist. The name "Taughannock" originates either from that of the Delaware Indian chief Taughannock or as the Delaware word taghkanic ("great fall in the woods").

I am a local resident that really enjoys the park and inititially this site was presented to share information and it's natural beauty. It was uploaded with a landline phone modem and now more than 20 years later, I find myself updating the site with a more current look to accommodate the common cell phone. Thank you for visiting!